Yet another amazing Summer with our HOUCK TALENT team!
The Today Show @ Universal Orlando featuring Pitbull – Our team had the privilege of creating custom urban style theatrical branded costumes for Universal Orlando's Today Show filming featuring Grammy award winning rapper, songwriter, and record producer Pitbull.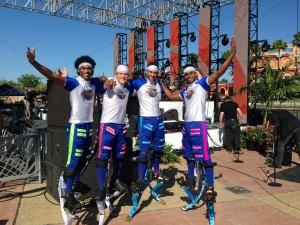 HOUCK TALENT Summer Kick Off Party @ EVE Orlando – Our HT family of performers had a chance to wind down before ramping up!  This years team appreciation event had a South Beach Yacht feel and devour while featuring Cirque style entertainment including Aerial Silks, Aerial Lyra, Go Go Dancers, Contortion, as well as showcased our new LED / Light Up Stilt Walkers.
Big Hero 6 – Walt Disney World's Contemporary Resort - We had the pleasure of working with Disney Event Group in producing a special Big Hero 6 themed show including Trampoline Wall, Stilt Walkers.
African Acrobats / Urban Acrobatic Street Show @ Universal Orlando's Islands of Adventure – This HOUCK TALENT exclusive act has yet again had the pleasure of returning to Universal Orlando's Islands of Adventure!  Our 6 person acrobatic troupe performs Chair Balancing, Limbo, Human Pyramids, and Jump Rope.  The entire show packs into a neatly organized portable show box that also includes a portable PA.
Orlando NACE Wedding Event @ Loews Portofino Bay Hotel – Thank you to our friends at Weddings Unique for showcasing our Living Statue / Wine Pouring Statue at the Orlando NACE Wedding Event!  Our Living Statue / Wine Pouring Station has been developed to create a moment for you and your guest while serving a purpose…  It is easy to load in/out, functional, fun and definitely interactive.  All we need from you is power and white wine (or a clear non-carbonated beverage of choice)!  Performing 3, 25 minute sets (act flexible with the needs and requests of client.) Also check out our previous blog post – Aerial Arch for other unique beverage distribution ideas.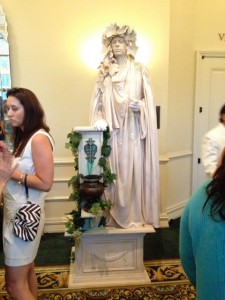 EVE Orlando – Our HOUCK TALENT team was honored to provide entertainment for the re branding of Vanity Orlando to EVE Orlando at their rEVEal Party.  EVE Orlando is a hip and trendy event venue and lounge that really delivers the WOW factor.  Our aerialist once again flying high adjacent to their crystal chandelier.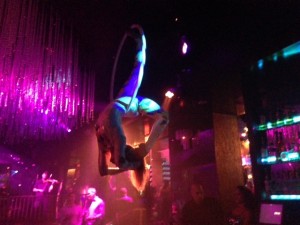 Tags: Acrobats, African Acrobats, Circus, Cirque, Entertainment, Houck Talent, LED Stilt Walker, Lighted Costumes, Living Statue, Power Skips